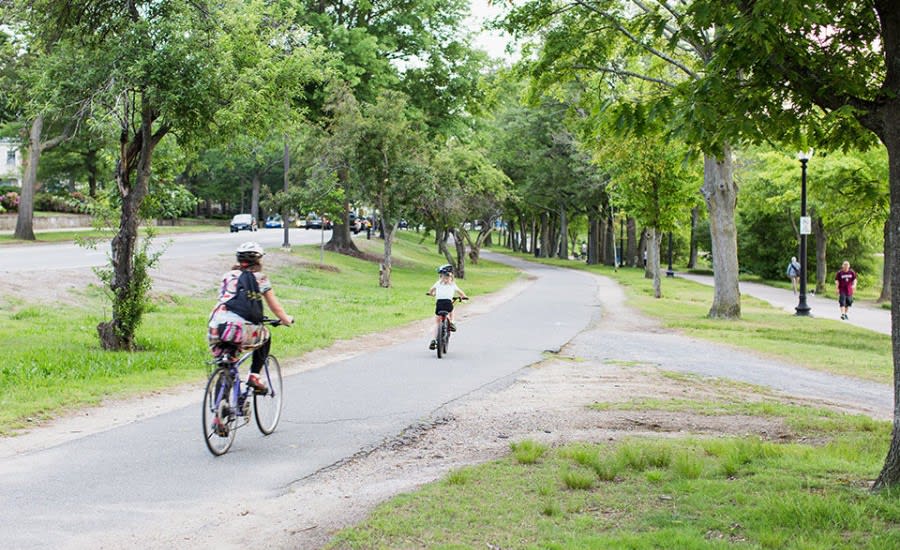 Jamaica Plain's Forest Hills neighborhood was transformed by public transportation when the area became one of the nation's first streetcar suburbs at the turn of the century. Today it's one of Boston's most progressive and green communities, where cycling is an essential part of urban living. In Forest Hills, some of Boston's best bike paths wind through world-class parks and along tree-lined city streets leading to downtown. Known for its health-oriented, hip vibe JP residents are avid cyclists. Today 5% of the population
commutes to work
by bicycle – the highest percentage of any Boston neighborhood.
Your Bike Awaits!
Even if you're new to biking, with a little planning you can avoid busy routes, find directions on the go, and have a healthy and fun day exploring or commuting to work. The recent Casey Arborway improvements around Forest Hills Station enhanced bicycle access, storage, paths and more. These routes and resources will make your neighborhood biking tour more relaxing and enjoyable.



Popular Bike Paths
The
Pierre Lallement Bicycle Path
also known as the Southwest Corridor Bike Path, runs for approximately 4.7 miles along the Orange Line route and connects Jamaica Plain, Roxbury, the South End and Back Bay. The 52-acre green space features tennis and basketball courts, several tot lots, spray pools and a street hockey rink. With easy access to downtown Boston and beyond, it's popular with commuters during daily rush hours.
Biking through
Arnold Arboretum's
open-air museum is a unique educational experience. Along the 3.7-mile route you'll see the Arboretum's living collection of trees, shrubs, and woody vines change with the seasons. Open every day of the year, the public-private partnership between the City of Boston and Harvard University is one of the best preserved of Fredrick Law Olmstead's landscapes. Ride to the top of Peter's Hill for amazing views of the Boston skyline and save time on your return trip to stop at the historic bonsai collection. You may even have time for a picnic on the grounds. Bikes are allowed on all the paved paths and you'll find a bike rack available inside the Arborway Gate.
Forest Hills Cemetery is an historic 275-acre greenspace open-air, museum and arboretum. Pick up a visitor's guide at the main gate and explore 60 points of interest including sculptures by some of the country's most renowned artists including Daniel Chester French.
Franklin Park's 2.3-mile loop
around the park provides a variety of paths and terrain to suit the needs of new and seasoned bikers.  Each May the Franklin Park Coalition hosts a bike and kite festival that's well attended and includes the popular Bike with Kids ride through the Roxbury community. Recently, the park received a $27M grant from the city to upgrade trails and preserve vegetation.
Located just minutes from Forest Hills,
Jamaica Pond
offers 1.5 miles of bike trails and is known for its natural beauty and proximity to downtown. The site of many community celebrations from Lantern Parade around the pond to a summer concert series, the Pond is a beautiful place for a short ride and can easily be combined with a ride along the Jamaica way or with a more extensive bike tour of Arnold Arboretum, Franklin Park and on to downtown Boston. This fall the city completed a multi-million-dollar upgrade to the pond's pathways. New bike paths, signage, drinking fountains and bottle fillers were added.
Resources for Cyclists
Whether you're an advanced cyclist or renting a bike or buying your first bike gear, you'll find easy access to professional resources throughout the community. With so many avid bike riders in JP, local bike shops are staffed by some of the city's cycling experts.
Ideal for a leisurely ride or commute to work,
BlueBikes
makes cycling convenient and affordable. With locations throughout Greater Boston, and several prime spots in JP it's easy to pick up and drop off a bike just about anywhere. This year new bike racks were added near Forest Hills Station and on Hyde Park Ave at the end of Walk Hill Street.
Ferris Wheels Bike Shop
has been serving local cyclists since 1982 and provides bike repair, gear and expert advice from a team of season urban bike riders. Whether you're looking for new bikes, clothing or need a repair, Ferris Wheels is worth checking out. Located along South Street's bustling shopping area the shop provides bike rentals that include a helmet, lock and map of the area. Ferris Wheels offers free air for tires. You'll also find a new bike pump located near the new entrance to Forest Hills Station.
For Bikes Not Bombs,
the bike is a vehicle for social change. This award-winning non-profit uses proceeds from its full-service retail bike shop to fund overseas economic development opportunities. Each year 5000 bikes are collected and shipped to international partners in Africa and Latin America. Need help repairing your own bike? The weekly Tool Time program offers guided bike repairs, free use of tools and the expert guidance of a trained mechanic.
Bike Safety
Urban biking comes with some risks. To avoid the often challenging conditions on Boston's major commuting roads, stick to side streets in more residential areas or schedule your ride during off-peak hours. In Boston you'll occasionally find cyclists riding along the sidewalks when roads provide no dedicated bike paths. Unfortunately, Boston's traffic and legendary drivers can be unpredictable. By planning ahead and using Google maps you'll save time and enjoy a safe and easy ride.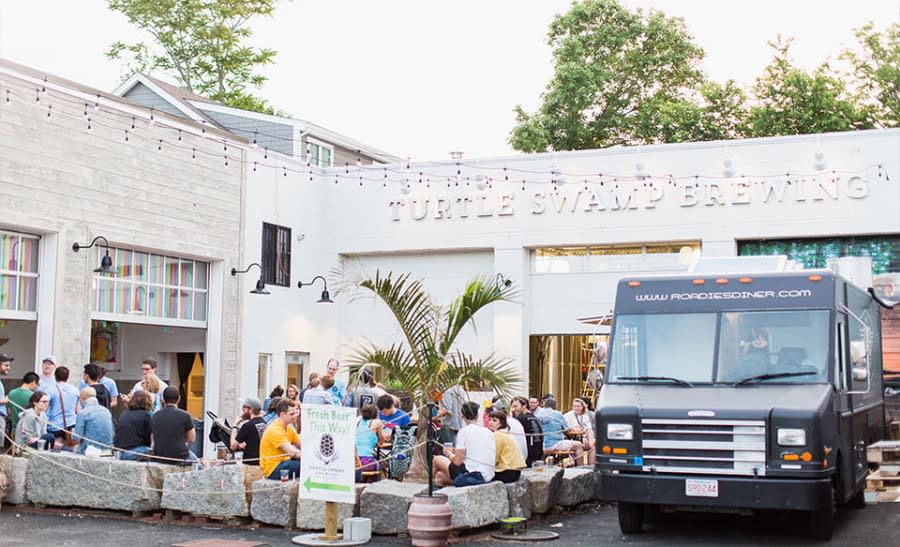 This Fueling Up: Restaurants and Cafes
Searching for healing, nutritious plant-based foods?
JuicyGreens
is the place to start. From avocado toast and super smoothies to power bowls and cold pressed juices, you'll find something energizing and delicious. 
Brassica Kitchen + Café
serves creative, comfort food in a fun, hip setting. During the day, you'll find great coffee and made from scratch pastry. Dinner menus feature locally sourced ingredients and creative presentations. This neigborhood gem was selected as one of the
top 100 restaurants in America
by Open Table.
Dogwood Café
is Forest Hill's go-to place for a casual meal paired with a great craft beer. Known for its hearty fare, creative pizzas and delicious brunch, Dogwood offers delicious food and has a relaxed, neighborhood vibe. 
Ula Café
is JP's comfortable neighborhood café and meeting spot. Located in the historic brewery complex along the SW Corridor Park, Ula is the perfect place to take a coffee break and enjoy one of their famous fruit scones. 
Even avid bikers like to stop for an occasional brew, and
Turtle Swamp Brewing Company
offers tasty ales, snacks from local food trucks and extra helping of friendly JP vibe. JP was once home to 24 breweries and Turtle Swamp is keeping the tradition alive with a fine assortment of ales, IPAs and Porters made from locally sourced ingredients.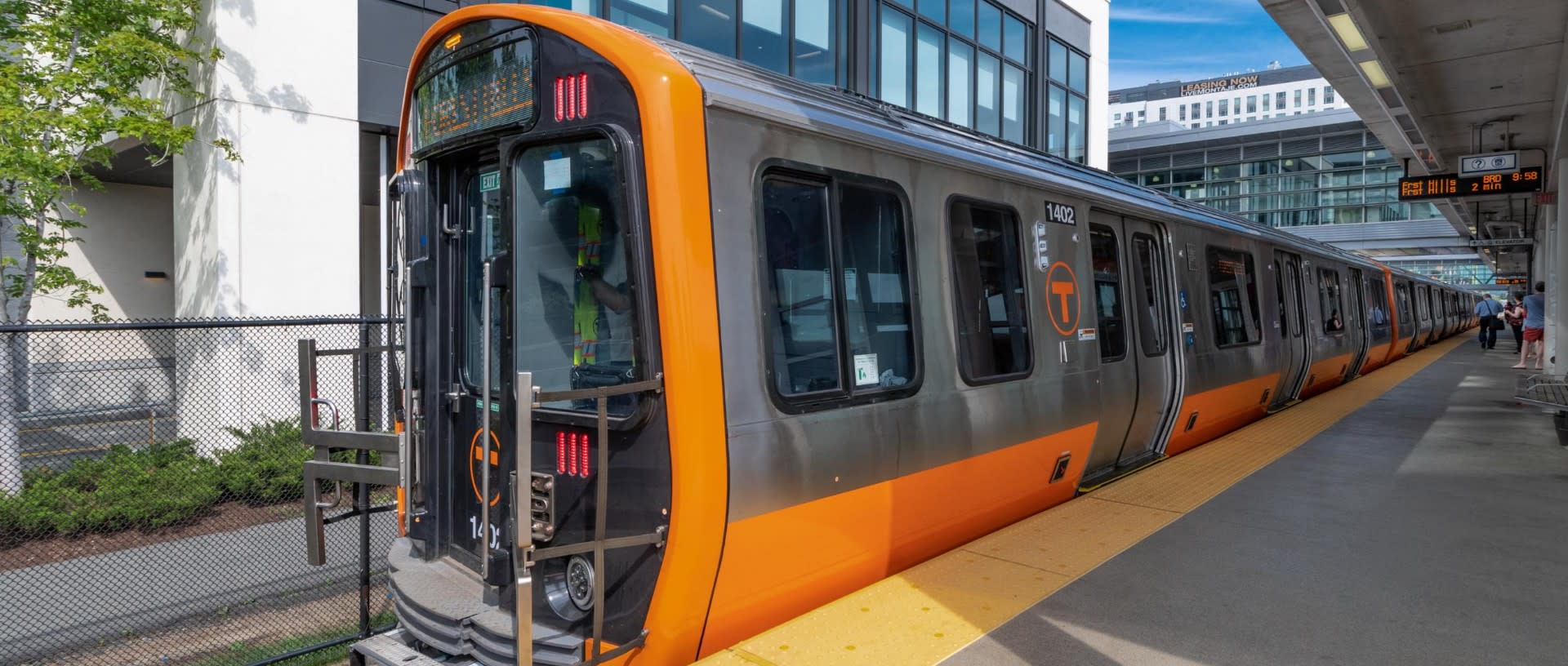 Public Transportation (traveling on the T with your bike) 
The most popular way to reach Forest Hills is on the Orange Line. With 4 stops in JP, Forest Hills Station is served by 16 bus routes including the 39 bus that travels down South St, Centre St and Huntington Ave to Back Bay. If you're thinking about combining a bike ride with time on the T, you'll find free bike parking at most MBTA stations. Bikes are permitted on the T during off-peak hours during the week and most of the weekend. If you have a folding bike, it's permitted on the T at all times when completely folded. From South Station, take the Needham commuter rail 2 stops to reach Forest Hills Station. 
For more information on bringing your bike on the T, including instructions for using bus bike racks, the MBTA has developed
online resources just for bikers.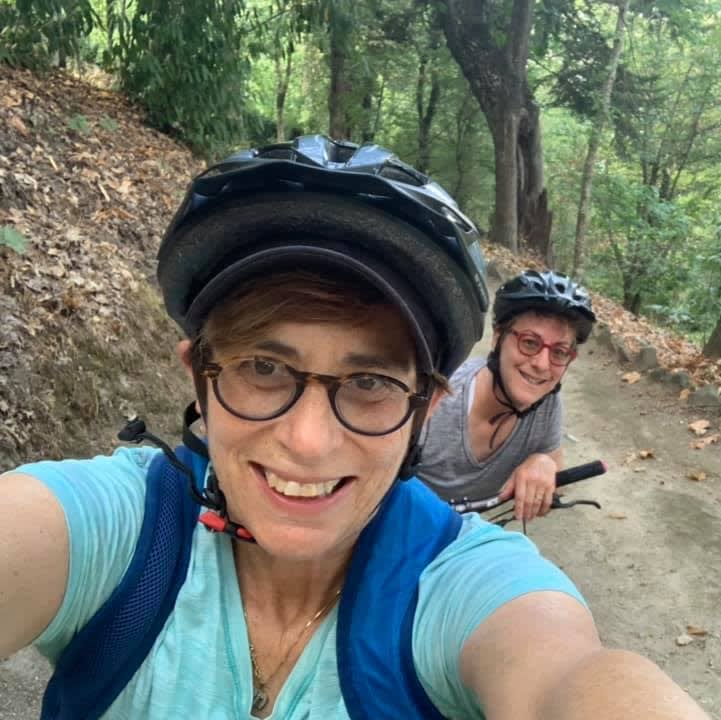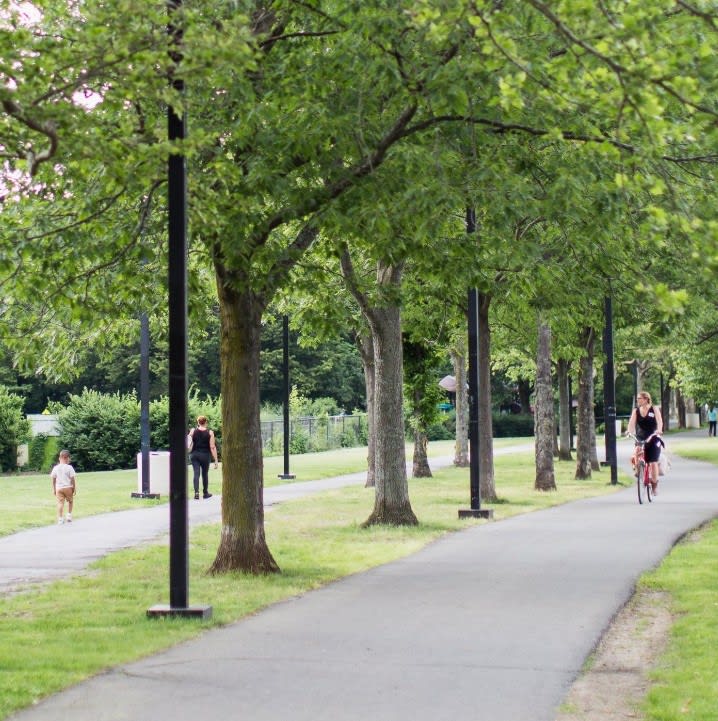 What's it like to live in and around Forest Hills? 
With hip restaurants, exceptional parks and easy access to downtown, Forest Hills neighborhood offers the best of urban living while preserving the creative, independent vibe that makes JP a special place to call home. The recently completed infrastructure projects around Forest Hills MBTA station streamlined traffic along Hyde Park Ave and sparked new transit-oriented apartment and condo development.



Housing Stock 
From traditional Victorian single-family homes, classic triple deckers and new construction condos, Forest Hills offers something for everyone. Homes in the charming Woodbourne historic district where inspired by the garden city model that encouraged middle-class families to buy homes in the city at the turn of the century. These coveted arts and crafts style homes were place around small parks and common yards. 



New Construction 
With increased demand for transit-oriented housing, Forest Hills has seen a boom in housing development. While Boston's permitting process can be complex and time consuming, these much-needed projects have added new housing inventory. 



45 On Burnett 
From the developer of the South End's The Lucas and The Marc, 45 On Burnett brings an exceptional level value and luxury to the Jamaica Plain condo market. This professionally managed building offers elevator access, heated garage parking, bike storage, electric car charging stations, private and shared deck space, a pet spa, on-site gym and more. The 44 units have a variety of spacious and elegant floor plans and superiors finishes. Enjoy Bosch or Thermador appliances, European style kitchens and hardwood flooring throughout. Visit
45OnBurnett
to learn more.
The Residences at Forest Hills Station Apartments 
This six-story mixed used development located on a former parking lot at the corner of Washington Street and the Arborway will add 250 rental units, over 4000 square feet of retail space and 140 parking spaces to the neighborhood. The project includes 50 affordable units and is scheduled to open in early 2020.



Metomark Apartments 
Metromark transformed an underutilized industrial site into a bustling 283 apartment complex with rental units with retail, onsite parking and bike storage. The addition of MetroMark provided more pedestrian traffic along Washington Street and is located just 800 feet from the MBTA stop. The project was LEED certified gold and includes green features like bike storage, electric car charging stations and courtyards with ample green space.



Tilia Jamaica Plain
Completed in 2017, this 24-unit condo complex located 1-block north of Forest Hills station consists of 2-3 bedroom flats and townhouse units. The architect designed floor plans, Energy Star rated mechanical systems and advanced construction methods provided something new to the area. As the exclusive marketing agents for this project, we worked closely with the developer to bring this ground-breaking property to market. 
With abundant green space, beautiful bike trails and easy access to downtown, Forest Hills is the ideal spot to begin an urban biking adventure. Throughout Boston's neighborhoods, you'll find popular bike paths and interesting sites to explore along the way. What are some of your favorite bike routes? Feel free to contact us with your recommendations. And, if you have questions about living in Forest Hills,
please reach out
. We'd love to hear from you!