Watching movies in the great outdoors has become a summer tradition in Jamaica Plain. Join us on the lawn of the historic Loring Greenough House for the Friday Night At The Movies series. Catch a diverse selection of family-friendly box office hits and cult classics in a beautiful outdoor setting. We are thrilled to sponsor the movie series again this year. So grab a blanket, chairs, and some snacks and enjoy the perfect summer evening activity!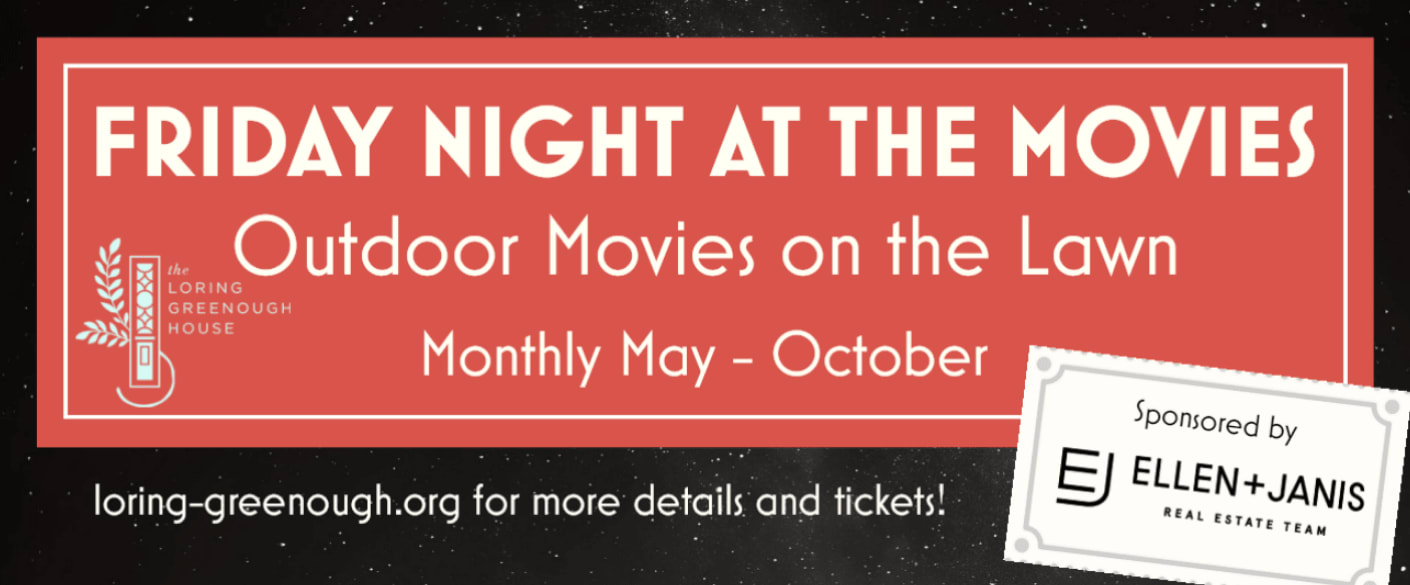 Everything Everywhere All At Once | May 26 at 8:00 PM
Directed by Daniel Kwan and Daniel Scheinert, collectively known as Daniels, the film is a hilarious and big-hearted sci-fi action adventure about an overwhelmed immigrant mother who must learn to channel her newfound powers.
But I'm a Cheerleader | June 23 at 8:00 PM
This teen rom-com follows Natasha Lyonne as Megan Bloomfield, a cheerleader sent by her parents to a conversion therapy camp after she comes out.
My Fair Lady | July 28 at 8:00 PM
In this cherished musical, Henry Higgins, a self-assured phonetics professor, undertakes the task of turning a Cockney working-class girl into a refined member of high society.
Sound of Metal | August 25 at 8:00 PM
Heavy metal drummer and recovering addict Ruben Stone has his world turned upside down when he begins to lose his hearing in this award-winning 2020 film on the power of overcoming challenges and building community.
Turning Red | September 8 at 7:00 PM
Turning Red is a touching coming-of-age story that follows thirteen year old Meilin Lee as she navigates adolescence and family expectations.
Luca | September 9 at 11:00 AM - Kids Matinee!
Take a trip to the Italian coast where mini sea monster Luca lives a stress-free life under the Mediterranean waves until he follows his braver friend Alberto up onto the land where he becomes human. This charming 2021 Pixar film is a literal 'fish out of water' tale about true friendship.
Young Frankenstein | October 6 at 7:00 PM
This Mel Brooks caper from 1974 features Gene Wilder as the American grandson of the famous scientist Dr Frankenstein, who inherits the family estate in Transylvania, and sets about trying to recreate his experiments to reanimate the dead.
Movies were selected to appeal to diverse audiences and provide family-friendly summer fun. Purchase tickets here.
Shows begin at dusk but you'll want to arrive a few minutes early to settle in and fully appreciate the beautiful grounds and gardens.
The Loring-Greenough House is a vibrant social and cultural center in the heart of Jamaica Plain. Constructed in 1760 for Commodore Joshua Loring and owned by the Greenough family for over 140 years, the home was purchased by the non-profit Jamaica Plain Tuesday Club in 1924. To learn more about this treasured historic home, or to become a member, visit the website.